Hello Readers,
Just in time for Camp NaNoWriMo, I have a handy dandy sort of helpful(??) guide survival guide. Prepare to be amazed!
Step One:
Look At All That You Must Accomplish… AKA Panic
After you have sufficiently been overwhelmed, move onto step two. It gets better from here.
Step Two:
Sort Out Your Priorities. 
Look at what you need to get done that day, and please, look at it realistically. Factor in snack breaks and inevitable probable procrastination. Know your limits. Do not think things like "I can do five math lessons in an hour and then figure out that one plot hole in ten minutes."
That. Will. Not. Happen. Realistically.
Trust me, I tried.
Step Three:
Start On The First Thing.
You're laughing, aren't you? "Wow, Ruby, I had no idea I was supposed to start. Thanks for adding that to the list." You'd be surprised at how many projects are never finished because they were never actually started because the person got too lazy and procrastinated.
The beginning is the hardest part of any project. The middle and the end are beasts as well.
Make yourself begin. Whether it's googling that math formula that you need to memorize, writing the first sentence of a book, or finishing that latin homework you forgot about over spring break.
Because once you begin, you feel guilty if you do not finish.
Step Four:
Let Yourself Have Breaks, But Not Too Many or Too Long.
See, you start out with great intentions of only having a ten minute break or a couple breaks. And then you wind up an hour or twenty breaks later explaining yourself to the pile of work that needs to be done and you look something like this man below.
And once you take too long or too many breaks, you start to crave the sun and fresh air. You want to talk to people.
Once that happens, you can't go back to chipping away at your block of work. So do yourself a favor and limit the breaks. You can go lay in the sunshine when you're done.
Step Five:
Work For The Allotted Time Period.
Once you have figured out how long you want your "work day" to be, every day, work for that entire amount of time. Plus breaks and whatnot. But don't decide that you're going to end earlier that day and go later the next. Do your best to have a rhythm. School and writing can be juggled chaotically, but still juggled. You've got this!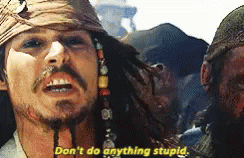 Step Six:
Once The Work Is Done, We Don't Think About Work. 
The work is done. It does not matter anymore. Work has no hold on us. We are free. Free as a bird. Until tomorrow morning.
All joking aside, this is actually very important. Placing what you must do tomorrow out of your mind once you can do no more is actually healthy. You stress less, you can relax more, and you can get more done if there is an end in sight.
Step Six:
Sleep!
Pretty self-explanatory.
Hope this was able to help those of you writers who were frantically looking for this guide. I got your back. 😉
~Ruby