Hello Readers,
Something I've been thinking about lately is a personal battle of mine. I'm sure that many of you feel this struggle I'm about to describe, but even if you don't, it still can be applicable.
I'm good at borrowing guilt, or "borrowing depravity". I will feel guilty about things I have never done (and things I would never want to do) simply because I feel the need to wallow. Simply because I think if I'm not reminded of my own depravity, I might get an ego. Because I feel the need to wallow in my own sinfulness instead of His righteousness. If you're nodding your head right now in understanding, let me tell you something.
That's the Devil talking. Not God.
I like to remind myself that I'm not enough (more on this concept in a bit). Maybe I think that's humility. Beating yourself up is humility, right?
Wrong.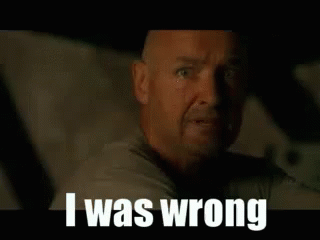 So what, if I'm not enough? So what, if I fail expectations and fall on my face now and again? Reminding myself of that does not make me humble. It might not even be fully true.
Humility is defined as follows:
a modest or low view of one's own importance; humbleness.
A modest view of my own importance is not focusing on what a horrible person I could potentially be. In fact, that's the opposite of humility; what I'm doing in focusing on my errors and shortcomings and potential for wickedness is focusing again, upon myself. That's not a modest view of how important I am, now is it? The world doesn't revolve around us, it doesn't revolve around me.
I know this, but it always manages to give me a shock when I'm reminded of it.
Going back to the "I'm not enough" statement now. Which is absurd. I'm not enough for God, most definitely. But when has he ever required me to be enough? This is the God that loved me when I was drowning in my own sin. This is the God who did not just drag me out of that hell, but the God who died the most excruciating death just so I would never have to feel my own sin coating my throat ever again.
So yea, I'm not enough.
Yea, I'm human. Yea, I mess up. I'm not ever going to be enough, I'm not ever going to succeed at everything, I'm not ever going to be right all the time. And I'll be honest, that thought scares me, when I really let it sink in.
But here's the flip side of that.
Jesus is/was/will be enough. Jesus already succeeded at everything; even defeating death, which strikes fear into all that meet it. Jesus will always be right.
So yea, I write to you now as a messy teenager, confused by the struggles in her head and knowing without a doubt that I'm not enough. I worry too much, I don't know all the answers but I act like I know them and I get too heated about little things. I'm not enough.
And that's more than ok.
Actually, that's the greatest thing ever. I'm not enough, so He became enough. I wasn't enough, so instead of leaving me there, in my not enough state, He hugged me close and informed me that the burden was no longer mine to bear.
So if you find yourself being reminded that you're not enough, look that straight in the face and tell it yes with a smirk. You aren't enough. But you aren't meant to stay there, staring into the mirror and crying.
That has no power over you anymore.
Jesus doesn't want you to stay there, looking at your hands and seeing how small and frail they are; too fragile to hold the weight they should be carrying.
He wants you to look at his hands, scarred and calloused. He wants you to see his wrists, where your burden found its final rest.
My friends, we are not meant to stay staring our depravity in the face. We were meant to defeat it. We were meant, you were meant to move past it, to refuse it any ground.
So if you find yourself trying to borrow guilt or depravity because you feel the need to remind yourself of your depravity, remember that Jesus is enough.
He doesn't want you walking around with your head down and shoulders hunched, so why are you doing it, my friend?
Walk with your head high. Keep walking. Don't look back to see if the shadows still look the same.
Keep on walking in the sun.
You are loved, no matter who you are, where you're at in life, if you're a church kid or want nothing to do with God, doesn't matter where you call your home or who you call your family.
What matters is that you're not enough, but He is.
~Ruby Sky